Presenting the 2018 Grand Haven Salmon Fest Intern: Liv Passe!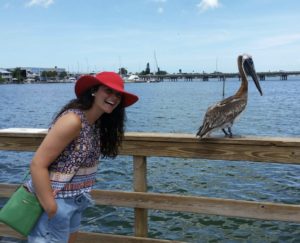 Liv is a rising senior at Grand Valley State who is majoring in Advertising & Public Relations and minoring in Psychology. She is a member of the Varsity Women's Lacrosse Team on campus and is also a consultant for Grand Valley's Speech Lab. Originally from Medina, OH, Liv loves everything Cleveland-related (especially their sports), but is having fun learning about the beautiful sites that West Michigan has to offer.
So far, Liv has had a blast leafing through funny content to post on all @ghsalmonfest platforms. She is a huge advocate of gifs and funny memes, and is ready to add some spice to the salmon. Liv will be the voice behind all GH Salmon Fest accounts, in addition to organizing the silent auction, art fair, and grape stomp events within the festival.
When asked what she is most excited about, Liv said "I can't wait to learn more about Grand Haven and the awesome people and places that are in it! Plus, who doesn't love making salmon jokes at work."
Keep a look out for Liv's work on Facebook, Instagram, and Twitter and get ready for a festival that you won't forget!
For more information on the festival, visit http://ghsalmonfest.com. #ghsalmonfest