Hi Everyone!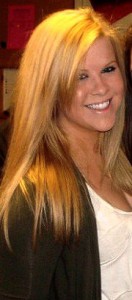 My name is Jaime Smith and I am the new Salmon Festival Intern for the 2014 event! I am very excited to be joining this amazing team to help plan the most fun and entertaining Salmon Festival ever!
A little about me, I am a recent graduate of Central Michigan University! FIRE UP CHIPS! I have a Bachelor's Degree in Communication with a minor in Event Management. I have volunteered for several events such as Relay for Life & the Hob Nobble Gobble in Detroit so I am pumped to be learning even more about the event world through Salmon Festival. In my free time, I am a big sports nut. I love watching football and hockey. I am a die hard Detroit Lions fan, which obviously isn't always fun, as well as a big fan of the Michigan Wolverines & the Detroit Red Wings & Tigers. I am also helping four of my great friends plan their weddings for this year and next year, which has been the most rewarding and biggest learning experience of my life!
We had our first committee meeting of the year yesterday which got me even more excited to get started! I hope to meet you all this year at Salmon Fest on September 12th through the 14th, and if you have any questions, suggestions, or concerns, please feel free to email me at salmonfestival@visitgrandhaven.com. In the mean time, follow us on Facebook, Twitter, and Instagram as I take you on this journey with me!